Keep your home #Kosher during the 9 days and beyond, with peace and good character traits building lasting loving relationships !

Someone wrote in response to a new blog <- click here on the 9days and kosher food <-" Here's a list of fancy fish and dairy meals, in exquisitely decorated restaurants, in Exile.

Spending the nine days like that, is a great way to guarantee that there will be another nine days of "mourning" next year, and the year after….

Do these kosher restaurant owners really want to rebuild the BHM? Do they really want kibbutz galuyot?

Wouldn't Geula Shleimah be bad for their businesses?" Moshiach and peace on earth now, especially for our Husbadn and Wifey! !
Kosher Eli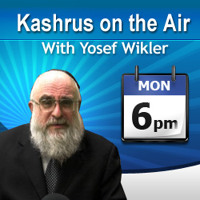 זרם בשידור חי בתאריך 2014 with Rabbi Yosef Wikler. <– click here for July 28th broadcast!
Eating my #kosher  lunch while listening and watching #kashruth live!
Thanks to 
JRoot Radio Pro Unlimited